I have changed the dates of Bunny Shoot to March 2nd, 3rd & 4th!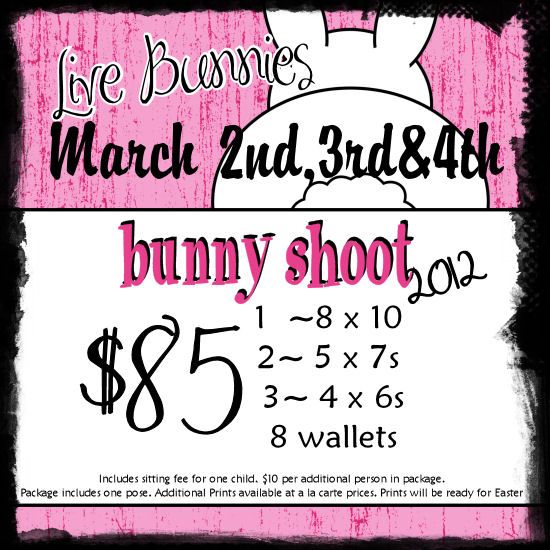 yes yes yes... Bunny Shoot will be the 1st special of 2012 :D
In case you don't know about Bunny Shoot.....
This will be the 5th year for Bunny Shoot and it's super fun!!
It's just your cutie pie kids dressed up in their Easter best playing with bunnies!!
Super sweet, super cute, super fun!
This will be the only weekend, I will be having bunnies.
Limited Edition Mini Session
BUNNY SHOOT
March 2nd, 3rd & 4th
$85
1 ~ 8 x 10
2 ~ 5 x 7s
3 ~ 4 x 6s
8 wallets
Includes sitting fee for one person.
$10 per additional person in package.
Package includes one pose.
Additional Prints available at a la carte prices.
Session will last 10-15 minutes!
And will be lots of fun!!
The basic set up for this is not an elaborate set, because the focus is your kiddos playing with the bunnies :D And any springy/Eastery outfits will work :D
I will open Bunny Shoot up Feb 12th @ 7pm