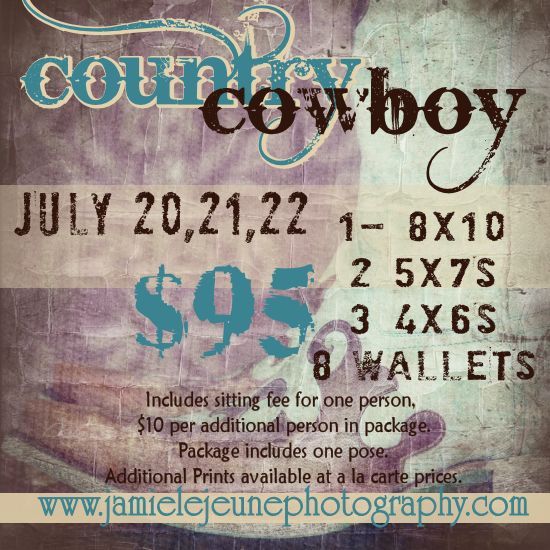 Limited Edition Mini Session
Country Cowboy
July 20th, 21st and 22nd
This will be the only weekend I'll have Country Cowboy set up :D
$95
1 ~ 8 x 10
2 ~ 5 x 7s
3 ~ 4 x 6s
8 wallets
Includes sitting fee for one person.
$10 per additional person in package.
Package includes one pose.
Additional Prints available at a la carte prices.
Session will last 10-15 minutes!
And will be lots of fun!!
Country Cowboy is gonna have a country front porch kinda feel. Your kiddo's outfit will umphh the countryfriedness of this set up! I won't be dressing any kids this weekend :D I have been pinning lots of cute outfits on pinterest too :D
more info
here
This will open for booking online via the blog ... tonight Friday June 29th @ 7pm.
Please be sure of your time before you book, as I can not change it afterwards.
yay I'm really excited about this!